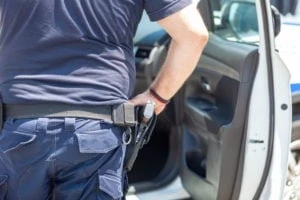 In Texas, possession of a controlled substance can be a felony charge in most situations and a misdemeanor in others. The punishment range for a possession charge is determined by the type and quantity of the drug the person possessed at the time. The greater the amount of the controlled substance, the higher the penalty for the drug charge.
What Is a Controlled Substance?
A controlled substance is an illicit drug or medication that is state or federally regulated. Under the federal Controlled Substances Act (CSA)and the Texas Controlled Substances Act (TCSA),it is illegal to possess, distribute, or manufacture controlled substances without a prescription from a doctor. These substances are regulated because of their risk for abuse and addiction. The federal government via the Drug Enforcement Agency (DEA), classifies drugs into 4 categories or schedules based on the level of abuse risk.
Drug crimes are either a felony or a misdemeanor. Felonies, which range in degree, are significantly more serious crimes. For that reason, they carry harsher punishments under the law. Misdemeanors are lesser crimes and therefore receive less severe penalties.
Felony Charges in Texas for Drugs
Texas maintains four punishment ranges for felony drug charges:
1st-degree felony

: 5 to 99 years in prison and a fine up to $50,000

Enhanced 1st-degree felony

: 15 to 99 years in prison and a fine up to $250,000

2nd-degree felony

: 2 to 20 years in prison and a possible fine up to $10,000

3rd-degree felony

: 2 to 10 years in prison with a possible fine up to $10,000

State jail felony

: 6 months to 2 years in a state jail and a possible fine up to $10,000
Misdemeanor Charges in Texas
Misdemeanors in Texas fall into one of three categories:
Class A

: Up to 1 year in county jail and/or a fine up to $4,000

Class B

: Up to 6 months in county jail and/or a fine up to $2,000

Class C

: Up to a $500 fine and no jail time
Texas also divides drugs into another set of categories called penalty groups. Controlled substances are divided into these groups based on how dangerous and addictive they are. The more severe drugs are placed in Penalty Group 1 and the least severe in Penalty Group 5.
For a legal consultation, call 713-225-1900
How to Tell if a Drug Possession Charge Is a Felony or Misdemeanor
Each penalty group carries a range of penalties based on the weight of the drug discovered in a person's possession. Whether a drug possession charge in Texas is a felony or a misdemeanor will depend on the penalty group and the weight that was found.
Penalty Group 1
The most dangerous and addictive group of drugs falls into the Penalty Group 1 category. For that reason, these drugs are also the most heavily regulated and come with the harshest punishments. Penalties for any amount of these controlled substances always begin with a felony charge. Drugs in this group include:
Opioids (which include painkillers like codeine, hydrocodone, and oxycodone)

Methamphetamine (crystal meth)

Cocaine

Heroin

LSD

Ketamine
Penalties in Group 1 range from a state felony receiving a minimum of 6 months to 20 years in state jail and a possible fine up to 10,000 to an enhanced felony charge of 15 to 99 years in prison and a potential fine up to $250,000.
Penalty Group 2
Penalty Group 2 includes drugs that are considered to be slightly less dangerous than those in Penalty Group 1. Common hallucinogenic drugs are in this group, including:
Ecstasy (MDMA)

PCP

Psychedelic mushrooms

Amphetamines (which includes Adderall)
Penalties for this group start at a state felony charge and extend up to 99 years in prison in addition to a fine of up to $50,000.
Penalty Group 3
Penalty Group 3 includes drugs that are stimulants or depressants. It also includes opiates and opioids which are not in Group 1. Included among these substances are:
Benzodiazepines

Anabolic steroids

Valium

Methylphenidate (Ritalin)
You can be charged with a Class A misdemeanor for possessing a low amount of the drugs in this category with up to 1 year in jail and $4000 in fines. For excessive amounts of the drugs in this group, a person convicted of possession may spend 5 to 99 years in jail and a potential fine of up to $50,000.
Penalty Group 4
Penalty Group 4 classifies opioids and opiates not listed in other categories as well as prescription drugs with potential for abuse. Penalties for this category at the low end are Class B misdemeanors punishable by up to 180 days in state jail and a fine up to $2000. At the high end, you could be facing 5 to 99 years in prison and up to $50,0000 in fines.
Marijuana
While marijuana is still considered a controlled substance, it is not classified in any of the penalty groups. Instead, it has its own category. If you are caught with two ounces or less, you will be charged with a Class B misdemeanor. Two to four ounces increases the charge to a Class A misdemeanor. Anything more than four ounces will receive a felony charge in Texas.
Marijuana is not considered as dangerous as other illicit drugs in Texas. However, the state maintains harsh stances on it. Other states have either legalized or decriminalized the substance. It remains illegal in Texas and continues to be among the top drug offenses resulting in arrests.
Fight Your Drug Charges with Blass Law
As the state continues to mount its war on drugs, possession of controlled substances is a felony in Texas. In certain cases, drug possession could result in a misdemeanor. If you are facing drug possession charges or any other drug offense, call Blass Law. A drug defense lawyer on our team will help you fight for your future.
Call or text 713-225-1900 or complete a Case Evaluation form