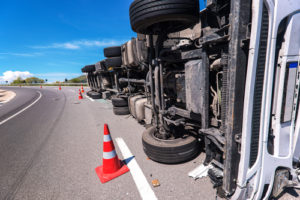 A collision between your car and a large truck can kick off a series of events that temporarily (and sometimes, permanently) derail your life. The aftermath of a large truck accident can cause you to spend days and weeks recovering from a collision you did not cause, all while incurring extensive medical bills and lost income.
A truck accident that leaves you with physical injuries and income loss can create an unfair financial burden for you and your family. A Sugar Land truck accident lawyer can guide you through the process of getting an insurance settlement that fully covers the expenses of the accident. If we cannot reach a fair settlement agreement with the insurance company, then we can take your case to court.
To get started with a free case review, call Blass Law today at (713) 225-1900.
The Disadvantages of Car Versus Large Truck Accidents
According to the Federal Motor Carrier Safety Administration, a fully loaded truck can weigh up to 30 times more than a typical passenger vehicle. In addition to the size disparity, the height of a large truck poses an additional threat. When trucks collide with passenger cars, the smaller vehicle risks becoming lodged underneath the truck.
Additionally, the Insurance Institute for Highway Safety shares these concerning facts about large truck accidents:
The vast majority of fatalities in truck accidents are the occupants of the smaller vehicle.
Fully loaded large trucks require 20% to 40% more stopping distance than smaller vehicles.
If you were injured or a family member was killed in a collision with a large truck, you do not have to carry the financial burden of your incurred expenses alone. A Sugar Land truck accident lawyer can identify who is responsible for your losses, and from there, pursue the cost of your expenses.
To learn more about how Blass Law can assign liability, call our team today at (713) 225-1900.
For a legal consultation with a truck accident lawyer serving Sugar Land, call 713-225-1900
Causes of Dangerous Large Truck Collisions
When a large truck collides with your car, if there were no extenuating circumstances, you generally can collect compensation from the at-fault truck driver or their employer. You might also be able to seek financial recovery from the truck's maker if a manufacturing flaw or defect led to the accident.
Driver error can cause accidents that lead to serious injuries for everyone involved. In fact, according to the National Highway Traffic Safety Administration, about 94% of all collisions can be tied back to human error.
Some actions or behaviors that may have resulted in your accident include:
Driving under the influence of drugs, alcohol, or fatigue
Distracted driving
Speeding
Tailgating
Succumbing to "highway hypnosis"
Engaging in road rage
Failing to respond to inclement weather conditions
Failing to obey posted traffic signals or yield to the right of way
Our team can use police reports, witness statements, and other evidence we collect to prove the cause of the collision.
Sugar Land Truck Accident Attorney 713-225-1900
Accident Expenses Start Right at the Accident Scene
Who can be held financially responsible for your accident will rest on the details of your case. However, regardless of who is liable, from the moment the truck struck your vehicle, you began incurring various expenses. Your Sugar Land truck accident lawyer can review the type of losses you have sustained and assign a value that represents your financial burden. Afterward, they can approach the responsible party and enter into the negotiation process.
You may be seeking to recover the costs associated with the following damages:
Medical bills, including the cost of hospitalization and follow-up appointments
Assistive devices, such as a wheelchair or crutches
Reduced earning capacity
Lost income
Property damage
Pain and suffering and inconvenience
Emotional trauma
Impaired quality of life
You should hold onto any documents or paperwork that reflect the value of your accident-related expenses. This could include your medical bills, pay stubs, and other relevant items. These records will help us assign a value to your claim and ensure no expense is ignored in your pursuit of financial compensation.
Click to contact our Sugar Land Lawyer today
How a Sugar Land Truck Accident Lawyer Can Support Your Case
Putting together the building blocks of a successful car accident claim takes time and attention to detail.
To promote your case's success, your legal team can:
Read and review the police report
Analyze insurance policies
Assign an accurate value to your claim
Locate and interview witnesses
Negotiate for a fair settlement
Most car and truck accident claims are resolved through an insurance settlement. We work hard to prove the elements of your claim, assign financial liability to the right party, and help you receive a beneficial outcome to your case.
Complete a Truck Accidents Case Evaluation form now
You Have a Limited Time to Take Your Case to Court
While you concentrate your energy and effort on your physical recovery, our team will concentrate on your financial recovery. It is important to notify us of your accident as soon as possible because the time you have to take your case to court is limited.
According to Texas Civil Practice and Remedies Code §16.003, you generally have two years from the date of the collision to take your case to court. Do not hesitate to contact our team as soon as possible after the accident. We are here to fight hard for the compensation for which you are entitled.
Call Blass Law Today for a Free Case Review
When you or a loved one are involved in an accident with a large truck, a Sugar Land truck accident lawyer can help you get financial recovery for your economic and noneconomic damages. From assigning liability to negotiating with the insurance company, we fight for your rights from beginning to end.
Contact the personal injury team at Blass Law by calling (713) 225-1900 today.
Call or text 713-225-1900 or complete a Case Evaluation form