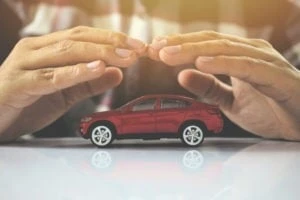 A driving while intoxicated (DWI) conviction can affect your car insurance in Texas for at least three years, although it may be much longer. Your rates going forward will depend on factors such as your age, gender, any other violations on your driving record, and which insurance company you use. Some insurance companies may even refuse to insure you at all after a DWI conviction.
Why Does the Cost of Insurance Increase After a DWI?
When you purchase or renew an insurance policy, your insurance company will check your driving record to determine their risk of insuring you.
If you have one or more DWI convictions on your record, the insurance company will see you as a high-risk driver, so they will likely charge a steep premium to insure you. Most insurance companies look back a minimum of three years on your record to determine your risk level, but some will look up to ten years back, especially for serious violations such as a DWI.
According to Progressive Insurance, the nationwide average insurance increase after a DWI is about 13 percent.
For a legal consultation, call 713-225-1900
SR-22 Insurance Certificates
In addition to higher insurance premiums, if you are convicted of driving while intoxicated (DWI) in Texas, the state will require you to obtain a special form of financial responsibility called an SR-22 insurance certificate.
Although it is called "insurance," it is not insurance in and of itself. Instead, an SR-22 is a special certificate of financial responsibility added to an auto insurance policy for high-risk drivers.
An SR-22 and its associated costs are required for at least two years after a DWI. Failing to obtain an SR-22 or allowing it to lapse can result in losing your driving privileges and vehicle registration, according to the Texas Department of Public Safety.
Why Do I Have to Pay for Insurance and an SR-22 Certificate?
According to the Texas Department of Public Safety, every driver of a registered vehicle in the state must obtain vehicle insurance in the following minimum amounts:
$30,000 for bodily injury or death per person
$60,000 for bodily injury or death per accident
$25,000 for property damage per accident
Drivers convicted of DWI will typically pay a higher rate for this coverage with a new policy or as part of an existing one. An SR-22 certificate added to your insurance allows the state to monitor your insured status. Your insurer will report to the state when you obtain an SR-22 and if it becomes invalid for any reason.
What Can I Do to Lower My Insurance Rates After a DWI?
Unfortunately, you will likely have to pay higher rates for at least three years after a DWI conviction. To obtain lower rates at a later date, you should start now by:
Maintaining a good driving record
Shopping for competitive insurance rates
Working on improving your credit score
Avoiding additional traffic violations
Being convicted of DWI is costly in many ways. In addition to paying higher auto insurance for years afterward, it can also have personal, professional, and social implications that negatively impact your day-to-day life.
Click to contact our Houston lawyer today
A DWI Arrest and Conviction Can Have Additional Costs
The cost of increased insurance is only one of the financial factors of a DWI. You may also face additional immediate and long-term financial consequences. According to the Texas Department of Transportation, these often include:
First DWI — Fines of up to $2,000, incarceration in the county jail for up to 180 days, and loss of your driver's license for up to a year
Second DWI — Fines of up to $4,000, incarceration in the county jail for up to one year, and loss of your driver's license for up to two years
Third DWI — Fines of up to $10,000, incarceration in prison for up to ten years, and loss of your driver's license for up to two years
You might also incur towing and storage fees for your vehicle, a potential threat to your employment if it requires you to have a valid license and good driving record, and the costs of making alternative transportation arrangements if your license is suspended or revoked or you are incarcerated.
Complete a Case Evaluation form now
A DWI Lawyer in Your Area Can Help You Minimize the Damage of Conviction
Every arrest for DWI does not have to lead to a conviction. A criminal defense lawyer can help by reviewing the details of your arrest to find out how to get you out of this. Your lawyer may also:
Challenge the probable cause that led to your arrest
Identify any violations of your rights
Challenge blood alcohol concentration (BAC) test results
Question the calibration and efficacy of testing equipment
Locate and interview supporting witnesses
Your lawyer will fight to get the best possible outcome. That can be a dismissal or can be a plea deal. These agreements will let you avoid the uncertainty of a trial. They can also lessen the charges against you or mitigate the potential penalties of a DWI conviction.
Get Help With Your DWI Case Today
If you are facing charges for DWI, our law firm makes sure you understand how long a DWI will affect your car insurance rates in Texas. We also help you fight to protect your driving privileges, criminal record, and background checks. Call our DWI case review team at Blass Law to start fighting for your future today.Learn more about how a DWI can impact your child custody case in Texas and how hard our legal team will fight for you. Contact our consultation team at Blass Law today.
Call or text 713-225-1900 or complete a Case Evaluation form