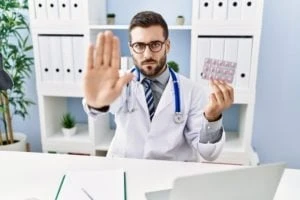 Although some states may have softened drug-related penalties in the past several years, Texas' drug penalties remain tough. So, if you find yourself facing charges related to controlled substances, count on our drug defense lawyer in Galveston, Texas, to give your case their full attention.
At Blass Law, we understand your freedom and hopes for your future ride on the outcome of your drug case. When we represent you, we take this responsibility seriously. We appreciate having the chance to defend your rights and tell your side of the story.
Do Not Count on Law Enforcement to Have Your Best Interests in Mind
When discussing your case, prosecutors and police officers might make it seem like they are doing you a favor by giving you an opportunity to talk to them. They may attempt to convince you that they are on your side.
Rest assured, they are not on your side, police have already decided you are guilty. Prosecutors want a conviction in the easiest possible manner, and if they can convince you to plead guilty, that serves their purposes far more than helping you with your situation.
Our Galveston Drug Defense Attorney Will Be on Your Side
When you truly want an advocate on your side as you face these drug-related charges, you need to seek representation from a criminal defense lawyer who has experience with crimes involving controlled substances. Blass Law is ready to pursue your best outcome after a marijuana possession, cocaine possession, or any other drug-related arrest.
The only way to ensure that Galveston police officers and prosecutors honor your legal rights is to have a drug defense attorney present during any questioning. It will become apparent very quickly that prosecutors and police officers have no interest in talking to you when you have a lawyer. When we are in the room with you, we will not allow law enforcement to violate your rights, so law enforcement loses all interest.
We Can Deploy Multiple Defense Strategies
Law enforcement may make it seem like a confession is your best option while discussing your drug charges. It's not, don't talk to any law enforcement officers without a lawyer. The Texas Sentencing Commissionexplains that a conviction on a serious drug charge could lead to several years of prison time.
When we represent you, we can present other avenues you could pursue in your drug possession case. For example, the police may have arrested you illegally or coerced you to make statements. This evidence may be suppressed and result in a dismissal. You may want to go to trial to explain your side of the story. In addition, you may want to negotiate a reduction of your charges. Our team can explain the pros and cons of these strategies and others and develop a strategy that fits your needs.
For a legal consultation with a drug defense lawyer serving Galveston, call 713-225-1900
We Will Try to Avoid a Felony Conviction
Some drug charges could result in a felony conviction, while others are misdemeanors. Therefore, having a complete understanding of the charges you face is critical to forming your defense strategy.
Whereas a misdemeanor conviction may involve minimal jail time, a small fine, or probation, a felony conviction can change your life forever. The team at Blass Law can help you understand which drug-related charges are felonies. We will explain all aspects of your case in a way that you can understand.
How a Felony Conviction Can Affect Your Life
A felony conviction on drug charges could lead to a prison sentence of multiple years, costing you time with your family and taking away your freedom. Even after you serve your time, having a felony conviction on your record could continue to affect your life in these ways:
Affecting your ability to own or possess a firearm

Losing your right to vote

Being unable to serve on a jury

Losing the ability to hold specific jobs

Losing your driver's license for a period

Being unable to obtain certain loans
We May Seek a Reduction of Your Charges
If you are up against a felony drug-related charge, one of the strategies we may attempt would involve seeking a reduction of the charge to a misdemeanor in exchange for a guilty plea. When the evidence piles up against you, pleading guilty to a reduced charge may be a smart defense strategy.
Ultimately, we may have to go to trial to avoid a felony conviction. The team at Blass Law will prepare you to go to trial as much as possible. For example, we may conduct a mock trial, where we ask questions that you will likely face if you take the stand in your defense.
Galveston Drug Defense Attorney 713-225-1900
We Represent Clients Against Many Drug-Related Charges
Count on our team to give you the one-on-one attention you deserve as we craft a defense strategy. We need to spend a lot of time with you to fully understand your hopes for the outcome of the case and ensure we know your side of the story thoroughly.
When you face any of the following drug-related charges, our team will be ready to represent you:
Possession of marijuana

Possession of cocaine

Possession of a controlled substance

Possession of prescription drugs

Possession with intent to deliver

Manufacturing and delivery of a controlled substance
Your Future Is at Stake – We Will Work Hard for You
We do not back down, even when representing a client in an extremely challenging case. We always do the best job we can in crafting your defense to give you the best chance at receiving the best possible outcome.
We do not let law enforcement or prosecutors bully us. We know the law and can call a bluff a mile away. Because your life, career, and future with your family are on the line in your drug case, we will fight tirelessly in defending you against these charges. We will be your advocate when it feels like the whole world has aligned against you.
Click to contact our Galveston Lawyer today
When It Is Time to Craft Your Defense, Blass Law Is Ready
Our Galveston drug defense lawyer knows that people facing drug-related charges are not always guilty. Police officers and prosecutors make mistakes. You deserve a team that can unearth the facts and gives you the best chance at trial.
Call Blass Law today at (713) 225-1900 to review your case. We will work hard to achieve the best possible outcome for you.
Call or text 713-225-1900 or complete a Case Evaluation form